Dr. Alexander M. Kasiri, DDS - Dentist in Plano TX
Alexander M. Kasiri is committed to providing excellence in dentistry, and stands out as a leading dentist in Plano TX. The doctor uses the latest in dentistry techniques to provide you with a beautiful and healthy smile. Additionally, Alexander M. Kasiri believes strongly in education to prevent oral health problems before they occur and makes sure to keep patients fully informed about their dental health. Read more about Plano dentist Alexander M. Kasiri below.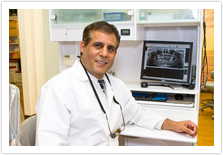 Alexander M. Kasiri, DDS
Dr. Alexander Kasiri graduated from University of Tennessee in 1994 and finished one year of residency in Advance Education in General Dentistry. Prior to studying at Dental School, he attended Arkansas State University. Dr. Kasiri has been practicing for over 28 years and he has been practicing in Plano for 21 years. Since he began practicing dentistry, Dr. Kasiri has kept up to date on many continuing educational classes, ensuring that his patients receive the most comprehensive and advanced dental care. He is a member of ADA, TDA, AGD, NTDA, AOS and several study clubs. Dr. Kasiri is married and has four sons.